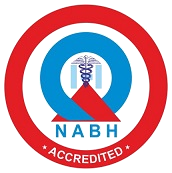 East Delhi Medical Centre's motto has always been providing good quality healthcare to the community at affordable costs. We always focus to improve the quality of patient care by:
✓ Monitoring and evaluating the treatment constantly
✓ Evaluating our performances against industry standards
✓ Putting emphasis on disease prevention as early detection saves lives and money.
As a proof of our commitment towards quality healthcare services, we have been accredited by the National Accreditation Board for Hospitals & Healthcare Providers (NABH). East Delhi Medical Centre is among the only few hospitals in India that have received the prestigious NABH certification.
NABH is a constituent board of Quality Council of India, established to set up benchmark of progress for Healthcare industry of India. NABH carries out activities like accreditation of healthcare facilities, quality promotion, IEC activities, education and training for quality & patient safety, and endorsement of various healthcare quality courses/ workshops.