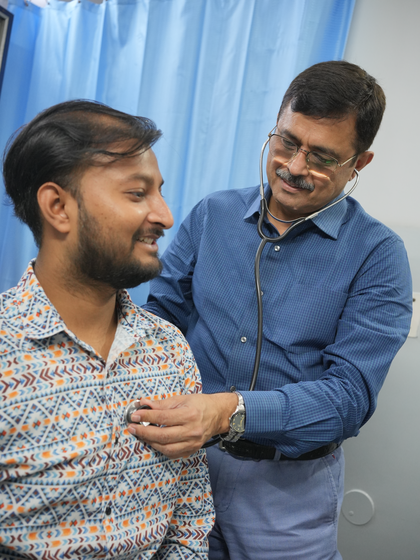 East Delhi Medical Centre was established by Dr. Ajay Bedi in 1989 in Shahdara, East Delhi. Currently, it has a bed capacity of 50 hospital beds. East Delhi Medical Centre was started as a small clinic to cater to the healthcare desert, Shahdara, at that time. Over the years, it has transformed into a multispecialty hospital as envisioned by its founder.
Our patient centric approach to healthcare which is both professional and ethical is the hallmark of East Delhi Medical Centre. In our journey of more than three decades, we have become the healthcare partner of every East Delhi resident.
Dr. Bedi started an institution which was small in scale, but great in vision. 33 years later,his legacy stands as a brand that is a household name. EDMC is responsible healthcare partner for the community.
East Delhi Medical Centre was Shahdara's first Covid treatment and testing Centre and it was also the community's first vaccination centre.
We have pioneered healthcare infrastructure, patient centric practices, state of the art technology in East Delhi, and we strive each day to heal better!
East Delhi Medical Centre, Shahdara is a renowned multispecialty hospital today having served around 75,000+ patients since its inception more than 33 years back. We have a long history of affordable, accessible, ethical and quality healthcare. The transformation of East Delhi Medical Centre into a multispecialty hospital in 30 years speaks volumes for our credibility and passion for healthcare excellence.
East Delhi Medical Centre's specialities encompass a large range of departments: General Medicine, General & Laparoscopic Surgery, Orthopaedics including Joint Replacement Surgery, Obstetrics & Gynaecology, Nephrology & Dialysis, Paediatrics, Critical Care (ICU & CCU) Ophthalmology, Urology, Medical & Surgical Oncology (Cancer Care), ENT Surgery, Interventional Radiology, Neurology and Physiotherapy. We constantly get appreciation from patients who get holistic expert healthcare solutions under one roof.
Driven by our mission of 'affordable accessible quality healthcare' East Delhi Medical Centre is committed to providing comprehensive wellness across specialties. Through the best practices and following highest ethical values, EDMC continues its journey to the healthy future of the world.
As a medical hospital, building trust with patients is essential to providing quality care and fostering positive relationships